News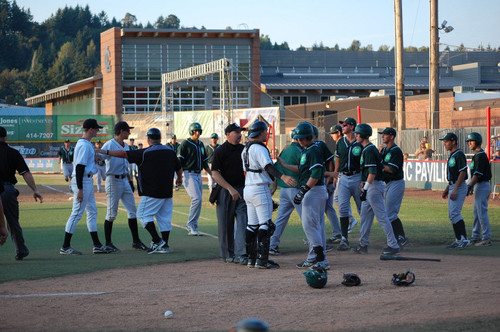 By Jeff Bowe / Cowlitz Black Bears
Longview, WA- The Cowlitz Black Bears (18-29) fall for third game in a row as the Yakima Valley Pippins (25-22) takes third in a row. Trailing the wild card leading Corvallis Knights (26-20) for the final spot in the 2015 West Coast League playoffs. Pippins currently sit 1.5 games out of the final playoff position.
Layne Bruner (WSU; 0-3, 3.80 ERA) was wild from the onset, finished his four innings surrendering one hit and two earned runs, with one hit batter and six walks and two wild pitches including one that scored a run, along with mixing in five strikeouts for good measure.
Things got a little heated in the fourth inning when Alex Guenette scored on a wild pitch. Bruner attempted to apply the tag but he was slid into and landed on top of Guenette and that is when the shoving began emptying the dugouts along with the bullpen. No punches were thrown, warnings were given to both benches and the game went on. Bruner allowed just that one run in the emotional fourth inning with no hits in his final frame from the mound.
The Black Bears have dropped the last five series and have lost 9 out of 11, their last series win came against the Bellingham Bells (30-17) between July 13th and 15th at Story Field three games before the All-Star break. Also, your Bears have been officially eliminated from playoff contention with the 7-2 loss along with the Corvallis (26-20) win, sitting 7.5 out of the wild card spot with 7 games left to play.
Yakima Valley was led by Jace VandeBrake on this night, with two RBI's on two hits in a 2-for-4 night with one walk and one run scored. Freddy Smith completed his evening with going 2-for-5 with one run scored Corey Morris drove in one run on one hit in four at-bats with one walk as well. Mitch Skaggs could not be kept off the base paths, despite finishing 0-for-2 he worked three walks on a night where Black Bears pitching walked 10 batters and hit one.
The Bears could only manage four hits and Ryan Aguilar (Univ. of Arizona) was the only one to bring an RBI across during his 1-for-4 outing, he knocked in Lorin Archibald (LCC) in the 1st inning after a lead off walk. Archibald was placed into the number one spot of the order for the 1st time this season, completed his day 0-for-3 with one run scored and a walk.
Hunter Cullen (CSUF) finished 1-for-4 with a run scored as he scored on an error by the Pippins and Casey Henderson (UCR) doubled for his only hit of the night going 1-for-4. The Black Bears struck out ten times and walked just three against solid relief appearances from Ryan Lillie and Kelly Fitzpatrick of the Pippins.
Up Next: The Black Bears (18-29) send to the mound Cal Neely (Linfield; 1-4. 3.08 ERA) against the Pippins' Darrion Simons (3-3, 3.51 ERA) in the final game between Eastern and Western Divisional foes. The Black Bears welcome in to Story Field on Tuesday the current first place in the West Bellingham Bells