News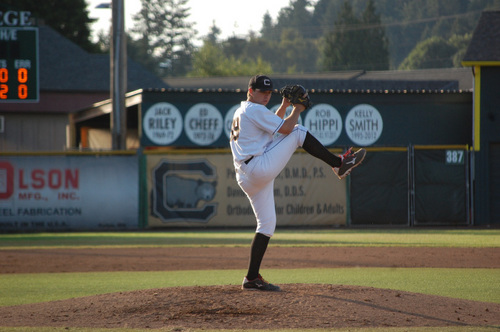 By Jeff Bowe/ Cowlitz Black Bears
Longview, WA- The Cowlitz Black Bears (19-30) were reeling, dropping four in a row and ten of the last twelve coming in to tonight's series opener with the Western Division first place Bellingham Bells (30-19). Chris Castellanos (4-1, 3.00 ERA) worked quickly and effectively through seven innings, surrendering just one unearned run while matching a single game high in strikeouts with eight, along with just one walk as the Bells scattered four hits in the Black Bears 3-1 win!
Castellanos (Stanford) tossed 97 pitches, 60 for strikes in his fourth win of the year grabbing the top win-loss record on the team at 4-1, and pushing his strikeout total on the year to 40 which is second on the team
Seth Rayburn (Mt. Hood) completed a scoreless 8th inning with one walk and two strikeouts, his last two out of three appearances have held the other team scoreless and tonight was much of the same for Rayburn with 10 innings pitched over the last ten games, allowing just one earned run with five strikeouts pushing his total up to 19 strikeouts for the season.
Lars Rider (CWU) recorded his 12th save of the season, which sits atop of the West Coast League, facing four batters, striking out one and hitting another. It was his first save since defeating the HarbourCats (27-22) in game two of the series on July 29th. Rider has continued to drop his opposition batting average from .211 to .200 and it took him just 18 pitches, 13 strikes to end the Bells night on the losing end.
The Bears were lead offensively by Lorin Archibald (LCC) once again, Archibald went 1-for-3 with a run scored and his two out triple in the first inning gave Cowlitz the lead when he scored on a wild pitch from Bells starter Zach Johnson. Archibald sent Johnson to a defeat on July 13th, when his only hit left the yard and that was all it took to win a 1-0 game.
Tonight, that one run lead held until the fourth when the Bears added another run on a sacrifice fly RBI for Dominic DeMarco (New Mexico) his 11th of the season after Isaac Benard (Mt. Hood) led off the inning with a single and a stolen base then was moved to third on a wild pitch.
Bellingham cut into the lead in the top of the 6th, Ethan Paul worked a lead off walk and would later score following a double by KJ Brady. Dustin Breashers lifted a ball to center, Paul tagged and scored, making it 2-1 to the 7th.
Your Bears scratched across another run in the bottom of the 7th, DeMarco singled against new pitcher Brian Longanecker, moved into second on a sac bunt by Haakon Lande (WSU) and advance to third on a balk. Justin Hughes (LCC) in his second appearance, first start in Black Bear uniform laid down a perfect bunt that he beat to first base allowing DeMarco to score making it 3-1 Black Bears.
The Black Bears take game one of a best of three series for the second time since the All-Star Game and the first time since taking game one 5-3 over the Corvallis Knights on July 21st in Corvallis.
UP NEXT: Black Bears vs Bells game two, getting the ball Emilio Foden (1-3, 5.13 ERA) against Andrew Kemmerer (3-0, 1.65 ERA) with first pitch scheduled for 6:35 PM inside David Story Field the Black Bears will look to clinch their first series win since taking two out of three against the Bells on July 15th. It would also be the first series win since the All-Star Break as well as the first two game winning streak since early July.