News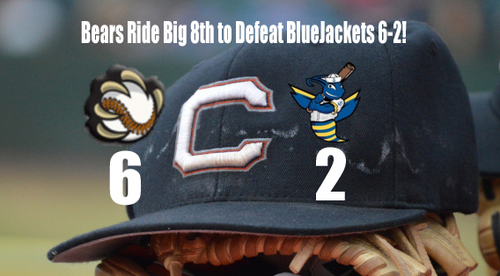 By Jeff Bowe / Cowlitz Black Bears
Longview, WA- The Cowlitz Black Bears (20-32) had no problem reaching base with five hits through the first three innings against the Kitsap BlueJackets (22-29) in the opener of the final series for the 2015 West Coast League campaign. The Bears came in losing two in a row and the BlueJackets had won two consecutive and were 7 and 3 in their last ten games. The Bears looked to defeat Kitsap for the second time this season.
Slate Miller (Washington) reached on an infield single, finish 3-for-5 with a run scored. The Black Bears left three on in the first three innings and trailed 2-0 going to the 8th inning. Curtis Perrin (Seattle) singled in the second inning, completed his night 2-for-4 with two RBI's. Hunter Cullen (CSUF) 2-for-5 knocking in his 4th RBI of the season, Bowen Ogata (Utah) 1-for-5 with an RBI single in the 8th inning. The 8th plated all six runs on five hits as the Black Bears rallied to grab game one, 6-2 final.
Lorin Archibald (LCC) knocked one hit in four at-bats with a walk and a run scored. Casey Henderson (UCR) worked a bases loaded walk for his 23rd RBI of the season. Eleven hits in total for the Bears, five in the 8th as the two run lead could not be held for Kitsap. Layne Bruner (Washington State) tossed six innings, allowed four hits and two earned runs while striking out six and giving up one free pass in the no-decision.
Camden Muller (George Fox, 2-1, 4.44 ERA) received his second win of the year as he tossed 1.2 innings allowing two hits and fanning one. Lars Rider (CWU) locked down his 13th save of the year, which leads the West Coast League, retiring four out of five by way of the strikeout allowing one to reach on a base-on-balls as he dropped his ERA below 1.00 to 0.98 sitting with 33 strikeouts in 18.1 innings pitched. Bruner (35) and Rider (33) are third and fourth in strikeouts for the Black Bears this season.
UP NEXT: Black Bears send to the mound strikeout leader (49) Cal Neely (1-5, 3.01 ERA) against Colten Barnes (4-1, 2.80 ERA) in the 8th of 9 matchups with Kitsap to end the regular season. First pitch at 6:35P, listen on the Home of Your Black Bears; AM 1400 KEDO (www.kedoam.com)