News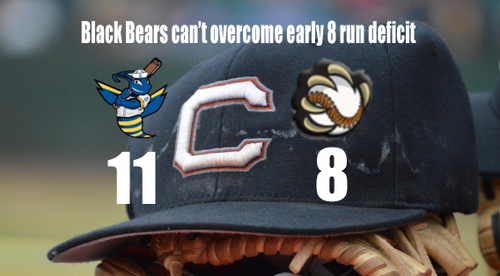 By Jeff Bowe / Cowlitz Black Bears
Bremerton, WA- The Cowlitz Black Bears (20-33) sent Cal Neely (1-6, 4.26 ERA) against the Kitsap BlueJackets (23-29) for his final start of the season and things came apart early, seven hits score eight runs in the first as the BlueJackets went around the order to take an 8-0 after one inning. The Bears were unable to rally from that deficit despite four runs in the top of the 8th.
Isaac Benard (Mt. Hood) slammed his first Grand Slam of the year and second home run with the bases loaded on three walks by reliever Wesley Stoltz. Benard finished 1-for-2 reaching on an error and a walk along with knocking in his 21st RBI, a four RBI night.
Peyton Burks (LCC) put together four solid innings of relief and was trotted out for his fifth inning in the 7th. That inning Burks surrendered two runs on three hits allowing six hits in total with just one walk and zero strikeouts.
The BlueJackets walked twelve Black Bear batters with three consecutive walks in the sixth inning including a bases loaded walk of Benard to bring across a run during a three run, one hit top six. Curtis Perrin (Seattle) finished 2-for-3 with two walks and a run scored, Sean Sutton (Seattle) knocked in his 11th RBI of the season with a single to right field in his first plate appearance during the second inning, completed the evening 1-for-3 with a walk and a hit-by-pitch.
Casey Henderson (UCR) went 1-for-4 with a single in the second a base-on-balls in the third and reached on an error in the sixth. Ryan Aguilar (Arizona) wrapped up a 1-for-3 performance with three walks and sits just two at-bats shy of the all-time at-bat record of 198 with 196 this year. Aguilar also worked a bases loaded walk bringing in his 27th RBI on his 31st base-on-balls.
UP NEXT: Black Bears send Chris Castellanos (Stanford; 4-1, 3.00 ERA) to the mound in the final game of the 2015 season against Eli Fultz (0-1, 1.68 ERA). The Bears wrap up the year inside Gene Lobe Field at the Kitsap County Fairgrounds with first pitch at 5:05 pm.