News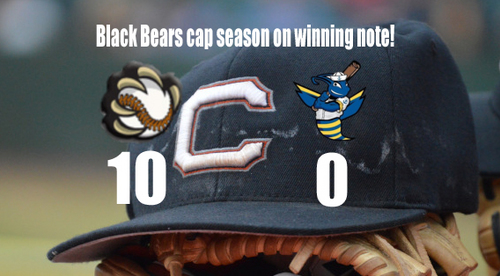 By Jeff Bowe / Cowlitz Black Bears
Bremerton, WA- The Cowlitz Black Bears (21-33) made their way into Gene Lobe Field for the finale of the 2015 season against the Kitsap BlueJackets (23-30) with one goal in mind, to cap a disappointing season off with a win. Chris Castellanos (Stanford; 5-1, 2.55 ERA) delivered another solid start tossing five no-hit innings with zero walks and a new single game high in strikeouts with 9!
Caylen Clardy led off the 6th inning with an infield single and that would be the only runner to reach base by way of a hit. In the fourth, Ryan Atkinson found his way to first by way of a throwing error from Bowen Ogata (Utah) which was the first of just two batters to reach base against Casellanos.
The Black Bears muscled up early and brought home five runs in the first three innings, Ryan Aguilar (Univ. of Arizona), in his final game of summer ball for his career, finished 1-for-5 with a run scored, Lorin Archibald (Lower Columbia) drove in RBI 32 which now stands as the all-time single season record during his 2-for-3 performance with two walks and two runs scored. Bowen Ogata worked a multi-hit day finishing 2-for-4 with a run scored, one walk and an RBI setting his tally at 16 for the year. Isaac Benard (Mt. Hood) went 1-for-4 with a run scored and one RBI as well as a walk.
Casey Henderson (UC Riverside) produced his third 3 hit game of the year as he sailed his 11th double to the gap, scored once and drove in four runs finishing with 27 RBI's for 2015. Hunter Cullen (CSUF) went 1-for-4 with one walk, Justin Hughes (Lower Columbia) brought in 2 RBI's and scored another run in five at-bats without a hit, and Curtis Perrin (Seattle) moved his average to .280 adding RBI 7 in a 1-for-5 season capping performance.
Ryan Wood (Corban) was brought in to finish off the game in the ninth, heading into his senior year he was one of a few playing in their final summer ball game, he walked one induced a ground out from Alex Junior, worked a fly ball out to left from Patrick Chung and finished out the 10-0 win with a lifted fly ball to center from Kyle Nobach to end the final game of the 2015 campaign.
The Black Bears take two out of three in a series for the first time since dropping the Bellingham Bells (33-21) on July 13th and July 15th. The 2015 season, which was full of trying moments, finishes on a positive note as we look forward to 2016!
Be sure to always keep up with new breaking information on our twitter @CowlitzBBears.
Go Bears!