News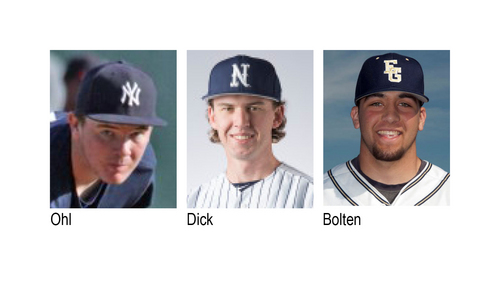 The Cowlitz Black Bears announced the addition to the 2016 roster of three players: Riley Ohl (Inc Fr., Nevada Reno), Austin Dick (So., Nevada Reno), and Erek Bolton (Inc. Fr., Youngstown State).

Ohl (RHP), has 10 innings pitched this season with 9 strikeouts and a 1.40 ERA for Marina High School, in Huntington Beach, CA. The 6'7" right-hander has an 88-90 mph fastball with unlimited potential. After being highly sought after, Ohl selected Nevada Reno and will pitch for The Wolfpack next season.

Dick (RHP) was named one of Nevada's 2015 Summer League Pitchers of the Year after leading the Marysville Gold Sox to a 40-7 record, with a 1.05 ERA, in relief. In his freshman campaign at Nevada Reno, he pitched 5 innings in seven appearances, struck out four and was one of four freshmen to see action. Already in 2016, Dick has made 2 appearances and has a 3.86 ERA.

Bolton (C) was named to the 2015 Perfect Game Underclass High Honorable Mention List. In 2016, the Elk Grove high school senior was named Rawlings Perfect Game All-American. After many college offers, he's decided to attend Youngstown State University next season. " Erek is quite a presence on the field," said Black Bears General Manager Jim Appleby. " He has a big bat, receives well, and an electric arm behind the plate, " added Appleby. "Our fans will love him."