News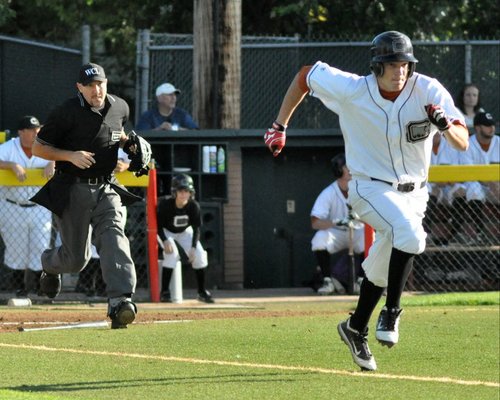 GAME STORY: Kitsap: July 5, 2012: Drew Luther (Fullerton College) had a breakout game for the Cowlitz Black BearsThursday night, getting three hits and three RBI in the team's 8-7 win over the Kitsap Blue Jackets.
After falling behind 3-0, the Black Bears took a one-run lead in the second inning on a two-run single by Luther and a two-run double by Austin Diemer (Cal State Fullerton). Luther and Brian Carroll (UCLA) had RBI singles and Kyle Kuck (Santa Ana) brought in a run on a hit by pitch to make it 7-3.Carroll scored what turned out to be the decisive run by stealing second and third and scoring after the Kitsap catcher threw a ball to first on a strikeout in the dirt.
Kody Watts (Portland) got the win for the Black Bears,allowing three runs in five innings. After a four-run eighth inning by Kitsap,Ryan McCarthy (Rice) pitched around a leadoff single to retire the next three hitters and end the game.
The Black Bears next home game is Tuesday, July 10 against the Walla Walla Sweets.It will be Azteca $2 Tuesday, featuring $2 GA tickets, $2 hot dogs, $2 soda,and $2 beer.
2012 Cowlitz Black Bears Ticket Packages are available by calling (360) 703-3195 or please visit us on-line at www.cowlitzblackbears.com
The Black Bears are members of the West Coast League, a nine-team, professional style wood-bat summer college league. The WCL features pro prospects from major conferences across the country. More than 120 WCL alums played affiliated professional baseball last season, and 14 ex-WCL stars played in the Major Leagues. For more information on the league, visit www.westcoastleague.com