News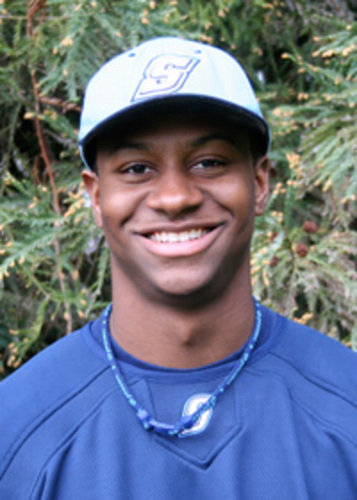 PRESS RELEASE: Longview-Kelso, Washington, Wednesday, April 14, 2010:
Outfielder Tillman Pugh has signed with the Cowlitz Black Bears for the inaugural 2010 season. The Oakland, California-native was drafted by the Seattle Mariners in the 16th round of the June, 2009 draft. Pugh elected not to sign with the Mariners and is now a red-shirt junior at Sonoma (CA) State. "We're excited to have Tillman play for us this summer," said Black Bears coach Bryson LeBlanc. "Tillman has exceptional tools and is an exciting player."
Pugh played as a freshman at Arizona State and played in the Northwoods League in the summer of 2008. He played junior college ball in Arizona as a sophomore and played last summer with the Amsterdam Mohawks in the New York Collegiate League. Pugh was rated the #2 top pro prospect in the league, with "the best raw tools in the league, with plus running speed". "We're told Tillman can really play centerfield," said Black Bears General Manager Grant Wilson. "He has outstanding bat speed and strength, and just needs to work on his pitch identification at the plate."
"I'm really excited about the opportunity the team is giving me," said Pugh. "I promise I'll work hard and won't disappoint."
The complete pre-season Black Bears' roster is expected to be completed in the next few weeks.
The Black Bears begin play this June as one of two expansion teams entering the WCL in 2010. The Walla Walla Sweets are also entering the league, and will visit the new Story Field August 3, 4, and 5, the final home series of the regular season.
Fans can go to the Cowlitz Black Bears official website to purchase officially licensed Cowlitz Black Bears apparel, season tickets and much more. For more info visit, www.cowlitzblackbears.com.
The Black Bears are members of the West Coast League, a nine-team, professional-like wood-bat summer college league. For more info visit, www.westcoastleague.com.
MEDIA CONTACT:
Grant Wilson
General Manager
(o) 360-703-3195