News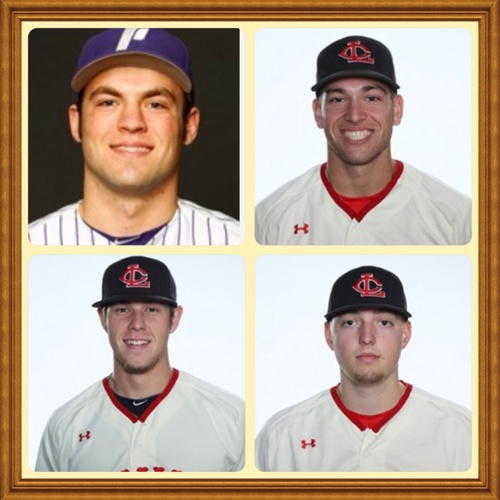 Black Bears Sign Trio of Red Devils;
Pilots' Sahlinger to Return
PRESS RELEASE: Longview-Kelso, Washington,
Tuesday, February 4, 2014:
The Cowlitz Black Bears announced the signings of a trio of Lower Columbia College Red Devils: pitchers Zach Torson and Kyle Rossman, and outfielder/pitcher Trevor Lane. The club also announced that University of Portland pitcher Billy Sahlinger (RHP, So) will return to the club after a stellar 2013 campaign.
Sahlinger was a mainstay for the Black Bears last summer, after having been named to the West Coast Conference All-Freshman Team as a member of the Pilots' staff. He continued to impress during the summer, sporting a 2.31 ERA in 42 innings of work for the Black Bears. Opposing hitters batted just .197 against him, tops for the team and among the WCL league leaders.
Lane (OF/LHP) was the 2012 Gatorade Washington State Player of the Year after a standout career at Mount Si High School, where he posted a career .480 batting average and a career 1.50 ERA. He comes off of a successful freshman season at Campbell University, having hit .279 in 44 games, with seven multi-hit games, and sporting a 3.63 ERA in nine appearances on the mound.
Torson (RHP) and Rossman (RHP) pencil as key contributors for Coach Eddie Smith's inaugural 2014 Red Devil squad. Torson joined Lane on the 2012 Washington 3A All-State team, registering a 1.40 ERA as a senior at Mt. View High School in Camas. The 6'2", 205 right hander made eight appearances as a freshman for the University of Portland in 2013. Rossman begins his collegiate career after earning First Team 4-A All-Area and First Team All-League honors as a senior at Emerald Ridge High School, posting a 2.67 ERA. As a member of Team Northwest, Rossman was named to the All Tournament Team of the Perfect Game World Series.