News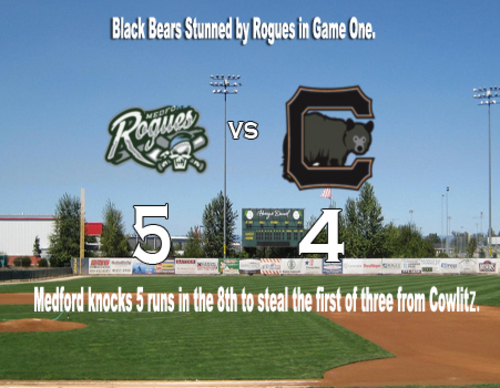 COWLITZ BLACK BEARS BASEBALL: Jeff Bowe, Broadcasting and Media Relations

June 29th, 2015- Medford, Oregon: Cowlitz Black Bears (9-10) sailed through seven innings with Joe Balfour (SJSU) dominating the Medford Rogues (9-10) allowing six hits and three runs, as the Rogues rally in the 8th to shock the Bears, 5-4.
Balfour (2-0, 1.70 ERA) tossed 83 pitches and 60 strikes in the no-decision as the Black Bears bullpen continues to be suspect through 19 games into the West Coast League season. Camden Muller (1-1, 5.19 ERA) received the loss as he allowed two earned runs on two hits and Lars Rider (CWU) was brought on with two outs in the 8th in an attempt to close the door but Medford could not be contained.
Nathan Etheridge finished 2-for-4 with two RBI's for the Rogues, Billy Frederick went 2-for-4 with two RBI's as well and Daniel Patzlaff drove in TK Whertor with a sacrifice fly RBI all in the bottom of the 8th to steal a victory from the Bears.
Slate Miller (Washington) had another productive day, going 3-for-5 with one RBI, Isaac Benard (Mt. Hood) drove in one RBI during his 1-for-3 day. Casey Henderson (UCR) knocked two across home plate with a single in the first inning, finishing 1-for-4.
Your Black Bears scored three runs in the first and one run in the second and could not keep the offense going as the bats went silent until the 6th inning with one hit but a runner left on base, recording just two hits after the 2nd inning in the loss.
Tomorrow night the three game series continues in Medford with first pitch scheduled at 6:35 PM inside Harry and David Field. Cal Neely (1-1, 1.89 ERA) gets his first start since game two against Walla Walla a 6-5 victory where Neely threw 7.0 innings allowed just one run on five hits with four strikeouts in the no-decision.
Cowlitz remains tied for second place in the Western Division with Kitsap who fell at the hands of the Kelowna Falcons (13-6) 3-to-1 this afternoon, both Kitsap and Cowlitz sit at 9-10 on the season, 3 games back of the division leading Bellingham Bells (13-8).
The Black Bears return home July 2nd to host the Kelowna Falcons (10-5) during fourth of July weekend with a special Fireworks Spectacular set for July 3rd at Story Field after the conclusion of the scheduled matchup with the Falcons which begins at 7:05 pm.
Go Bears!