News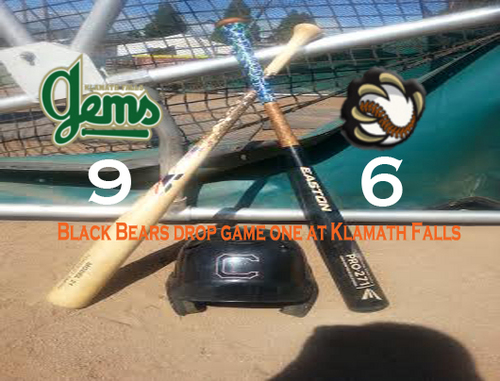 COWLITZ BLACK BEARS: Jeff Bowe, Broadcasting and Media Relations
July 16, 2015- Klamath Falls, OR: The Cowlitz Black Bears (15-19) had won back-to-back series taking two out of three from both Wenatchee and Bellingham into a crucial series against another Southern Division foe, the Klamath Falls Gems (6-28).
Emilio Foden (CWU) received his first start in a couple of weeks and worked into the 6th inning before the wheels came off. The Gems scored five runs, on two hits and two errors in the bottom of the sixth to chase Foden from the game and send him to his second loss of the season (1-2, 3.57 ERA).
Dominic DeMarco (New Mexico) slammed a three run home run in the top of the 9th his first of the season driving in his 6th RBI of the year to scratch the Bears a bit closer, but the lead held and the Black Bears fell 9-6. Ryan Aguilar (Arizona) drove in his 18th RBI of the season with a triple during his 2-for-4 evening with a walk. Lorin Archibald (LCC) brought in his team leading 27th RBI in the top of the 9th with a single to finish his 1-for-5 performance.

Isaac Benard (Mt. Hood) went 2-for-4 with a run scored; AJ Graffanino (Washington) finished 2-for-4 on his 18th birthday with an RBI and a run scored. The Black Bears fall to 1-9 against the Southern Divison this season with a 9-6 loss at the hands of the Gems who snap the longest losing streak of 13 games, first win since a 4-3 victory over Southern rival Bend on July 1st.

Tomorrow night your Bears look to bounce back with Josh Johnson (Midland, 2-2, 5.23 ERA) on the mound against Mickey Walker (1-4, 2.43 ERA), first pitch at 6:35 PM on the home of your Black Bears, AM 1400 KEDO.
Go Bears!