News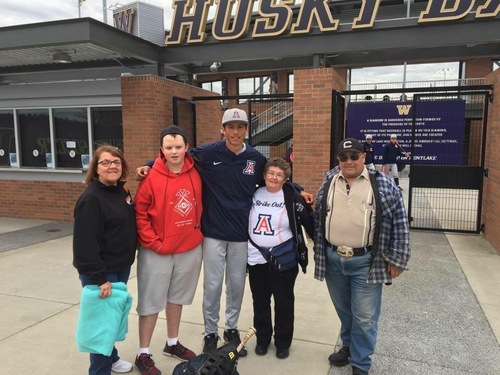 Ryan Aguilar ('13, '14, '15) visits with Black Bears host families last Saturday before the Arizona Wildcat game with the Washington Huskies, up in Seattle. Aguilar went on to hit back-to-back home runs that afternoon.

Pictured here, left to right, are Black Bears host Karen Stangle, Black Bears batboy Marcus Watson, Ryan Aguilar and Black Bears hosts Peggy and Vince Selzler. Ryan spent three seasons with the Black Bears, each year staying with Peggy and Vince.

Host families make lifelong friendships with their players. The Black Bears are now taking applications for the upcoming 2016 season and are currently placing players in homes. If you are interested in hosting a player this season, please call our office at 360-703-3195 or e-mail jappleby@cowlitzbackbears.com.