News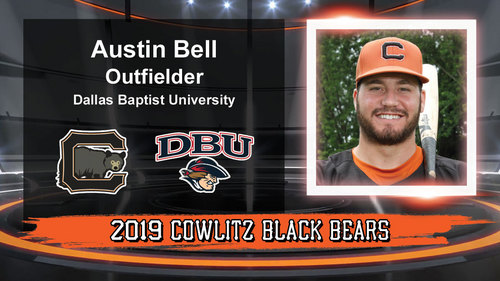 The Cowlitz Black Bears are happy to announce the return of Dallas Baptist University outfielder, Austin Bell. Bell played in 46 games for the Black Bears in 2018. He was among the league leaders in two categories, tallying five homeruns (tied for 5th) and 32 RBI's (tied for 5th) while hitting .254 with 11 stolen bases.
Bell provided an electric bat at the top of the order, helping set the table for Cowlitz. He was a run producer as well, introducing himself to the Black Bears right off the plane with a crushing homerun in each of his first two games played.
"I am excited to come back to Cowlitz this summer," said Bell. "I got the chance meet a great group of guys and play in front of an awesome community who gives huge support."
Bell does not just bring a good bat, but is a plus defender in the outfield. His range and arm strength plays very well in a league that has big gaps in most of the ballparks we play in.
"Austin brings a skill set and attitude towards the game that you are looking for when competing," Coach Grady Tweit said.
The left-handed hitting Bell is a native of Albuquerque, New Mexico, where he played and graduated from La Cueva High School.
Please join us and welcome back Austin Bell to your 2019 Black Bears!