News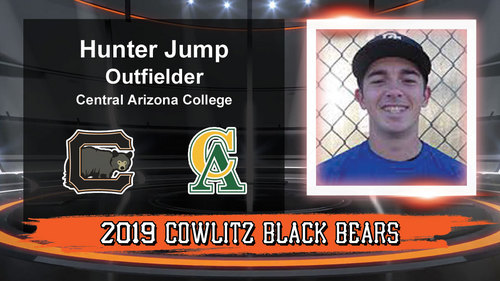 The Cowlitz Black Bears are happy to announce the signing of Central Arizona College outfielder Hunter Jump.
Jump joined the Vaqueros for his sophomore season after playing his freshman campaign at Arizona State University. He played in 36 games as a freshman for the Sun Devils, batting .370 and driving in 22 runs in his collegiate season.
"We are getting a proven hitter for the season," said Coach Grady Tweit. "Hunter is off to a great start for the Vaqueros, hitting .333, five rbi's, 17 runs scored and four stolen bases."
Jump is an athletic offensive machine, allowing him to show off his plus defensive skills in the outfield. He can cover a lot of real estate and has plus arm strength.
"I'm just as excited to have Hunter's defensive as I am for his offense," Coach Tweit said. "We play nightly in ballparks that have huge gaps and we've added another outfielder who can close those gaps quickly."
Left-handed hitter Jump's hometown is Aliso Viejo, CA. There, he played and graduated from Aliso Niguel High School.
Please join us and welcome Hunter Jump to our 2019 Black Bears!