News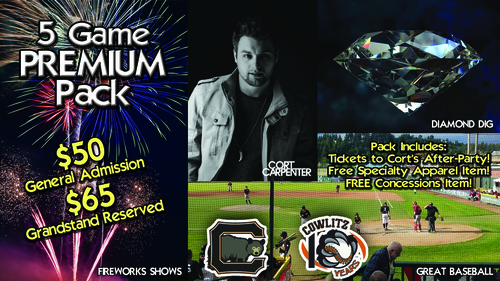 Introducing the Cowlitz Black Bears PREMIUM PACK! This ticket package includes our five biggest events at Story Field in 2019. If you don't have season tickets, this is the only way to guarantee your seats on these nights. Plus, enjoy exclusive bonuses! Premium tickets include:
Friday, June 7 - Opening night with fireworks!
Saturday, June 29 - Military Appreciation Weekend with fireworks!
Friday, July 19 - Cort Carpenter in concert after the game!
Saturday, August 3 - The Gallery of Diamonds 10th Annual Diamond Dig!
Thursday, August 8 - Fan Appreciation Night with fireworks!
*Bonus #1: Ticket to Cort Capenter's Sound Check After-Party on Thursday, July 18! ($20 value)
*Bonus #2: FREE special-edition apparel item! ($20 value)
*Bonus #3: Concessions voucher for a FREE grill item or soda! (up to $8 value)
$50 per 5-game Premium Pack in General Admission
$65 per 5-game Premium Pack in Grandstand Reserved
Click here to buy your Premium Packs before they're gone!