News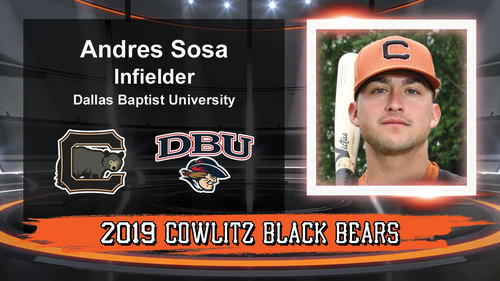 The Cowlitz Black Bears are happy to announce the return of Dallas Baptist University junior Andres Sosa.
Sosa played in 46 games for Cowlitz in 2018 and was among the offensive leaders of the team last season. Sosa hit .244 with 26 rbi's, four home-runs and 14 doubles for the Black Bears in the middle of the lineup. He is a run producer with a very aggressive bat and power to all fields. The right-handed hitter is often at the field early to work on his swing or get his glove work in.
Sosa played a majority of third base last season, but he is a versatile infielder. His athleticism allows him to play any of the infield spots if needed and he is very comfortable doing so.
"Having the ability to move Andres from one to spot to another during a game or game to game makes our lineup even stronger," Coach Grady Tweit said. "I am very excited to have him back in the lineup this season. He will also be a guy I can trust to assist our newer players with what it takes to make it through the grind of our season."
Please join us and welcome back Andres Sosa to your 2019 Black Bears!