News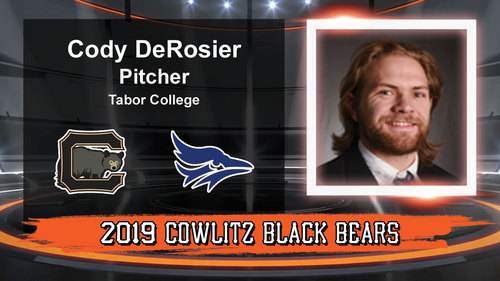 The Cowlitz Black Bears are happy to announce the signing of Tabor College junior Cody DeRosier. A local product from Kelso High School, DeRosier will again be able to showcase his talents in his hometown during the summer of 2019.
"There is always a tremendous amount of pride in having a local player on the roster," Head Coach Grady Tweit said. "It means a lot to the fans and the community. It's really terrific to be able to watch a player like Cody, who had a tremendous amount of prep success in Cowlitz County, continue that with the Black Bears."
DeRosier joined the Tabor Bluejays staff after playing two years at Centralia College. The left-handed pitcher is a competitor on the mound. The southpaw's ability to command his three pitch mix and challenge the strike zone makes him a valuable arm.
"To have a guy on our staff like Cody who can throw his stuff in any situation and produce outs is exciting," Coach Tweit said.
Please welcome Cody DeRosier to the 2019 Cowlitz Black Bears!