News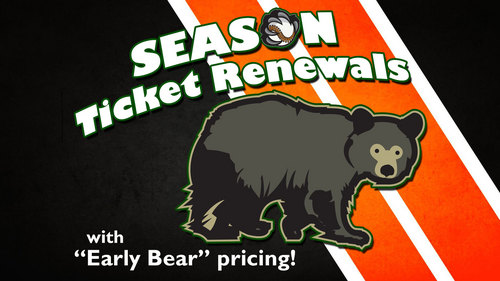 ***FOR IMMEDIATE RELEASE***
September 10, 2019
Cowlitz Black Bears Offer Automated Season Ticket Renewal Process
Longview, Washington - The Cowlitz Black Bears announced an improved process for season ticket renewal today. The procedure makes it possible for season ticket holders to login to their online account via TicketReturn and simply claim tickets which have already been placed on hold. Buyers can then confirm their seats, make changes, and purchase additional tickets if desired.
"Our ticketing vendor has made it easy to set up an efficient renewal process," said Ticketing Manager Kevin Taylor. "While fans can complete the process online, they are still welcome to call or stop by the office if they prefer."
In addition to the streamlined process, season ticket holders can take advantage of last year's prices if they renew by October 31, 2019. The Black Bears will then announce any rate increases for the 2020 season.
"Season ticket holders are valued guests at the ballpark and a vital part of our fan base," Taylor said. "We want to make the ticketing process as enjoyable as possible for everyone who takes in a Black Bears game this summer."
Regular game day tickets won't be available until spring, but special ticket packages and Bonus Books will be offered earlier. To receive the latest news and offers, text BLACKBEARS to 22828 and join the official fan list.
INSTRUCTIONS TO RENEW YOUR SEASON TICKETS:
-Go to TicketReturn.com and login to your Black Bears account using credentials you have already set up. If you have NOT set up your account, start with "Help Me Find my Account". Follow the prompts and use this PIN to verify your account.
-Once logged on, there will be a link at the top of the page "You currently have tickets that have been reserved for you (on hold) by the box office..."
-Click the link to be taken to your season tickets ready for renewal.
-When the Ticket On Hold page appears, select the tickets you are ready to purchase and click the "Confirm Selected Packages" button. If you wish to add or relocate your seats, please finish this process, then contact Kevin Taylor by email at ktaylor@cowlitzblackbears.com. This process will take place September 10 through October 31, 2019.
-Confirm the seats you are renewing. Click "Continue."
-Confirm and update all account information, enter your payment information and click "Pay Now". This is the most secure method to purchase your tickets.
-The next page will display your purchase confirmation. If you have included an email on your account, you will receive an email confirmation for the transaction.
-Clink the link for an on-screen receipt that you can print.
PLEASE NOTE: Tickets will be distributed in early May, 2020. We will confirm ticket delivery methods this winter. Possible delivery methods for next season may include printed tickets, mobile entry, and season ticket cards.
The Cowlitz Black Bears are a South Division summer collegiate wood bat baseball team in the West Coast League. They provide an unbeatable baseball experience for players, fans, and sponsors each summer at David B. Story Field in Longview, Washington.
Go Black Bears!
# # #