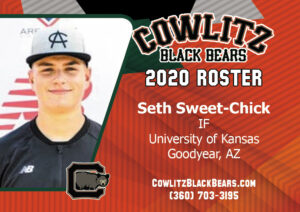 The Cowlitz Black Bears are happy to announce the signing of University of Kansas infielder Seth Sweet-Chick.
Sweet-Chick will be an incoming freshman for the Jayhawks next fall. The talented infielder is from Goodyear, Arizona, where he attends Estrella Foothills High School. The 6'3″ Sweet-Chick is a physical and athletic kid who has a great bat, with gap power to all fields.
"I am excited to have Seth on our roster this summer," Head Coach Grady Tweit said. "To have the opportunity to add a very good player who can play multiple spots if needed creates great depth for us."
Please join us in welcoming Seth Sweet-Chick to your 2020 Black Bears!