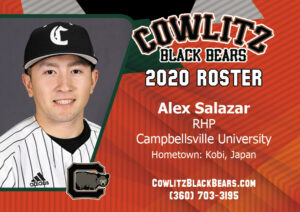 The Cowlitz Black Bears are happy to announce the return of Campbellsville University pitcher Alex Salazar.
Salazar made eight appearances for the Black Bears in 2019. He had 33 strikeouts in 28.2 innings of work on the mound. The hard throwing right-handed pitcher was in the starting rotation and is expected to be in it again this summer. Salazar has great feel and command of all his pitches.
"Alex is a fun pitcher to watch," said Cowlitz Head Coach Grady Tweit. "He competes on every single pitch and brings a tempo to the mound that any position player can appreciate."
A native of Kobi, Japan, Salazar is in his junior year for the Tigers baseball program.
Please join us and welcome back Alex Salazar to your 2020 Black Bears!