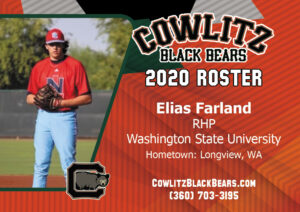 The Cowlitz Black Bears are happy to announce the signing of local talent Elias Farland.
Farland is a big right-handed pitcher from RA Long High School and is off to Washington State University in the fall. He has a great three pitch mix that he competes with in the zone.
"I have known Elias for years and watched him work his rear off to achieve his goals," Head Coach Grady Tweit said. "He is a great addition to the staff. We have another guy who wants the ball and will compete every time he gets the chance."
Please welcome Elias Farland to the 2020 Cowlitz Black Bears!