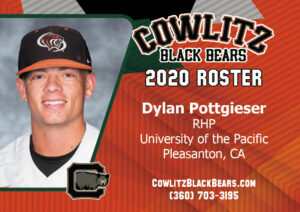 The Cowlitz Black Bears are happy to announce the return of University of the Pacific pitcher Dylan Pottgieser.
Pottgieser made 10 appearances for the Black Bears in 2019. He had 23 strikeouts in 27 innings of work on the mound. The hard throwing right-handed pitcher was in the starting rotation and you can expect him be in it again this summer. 
"Dylan brings the skill set and attitude towards the game that you're looking for when competing," Coach Grady Tweit said.  
Pottgieser is a native of Pleasanton, California and is in his sophomore year at the Tigers Baseball program.
Please join us and welcome back Dylan Pottgieser to your 2020 Black Bears!