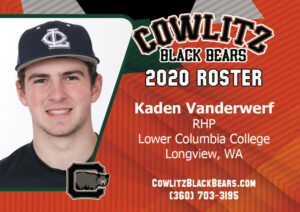 The Cowlitz Black Bears are happy to announce the signing of Lower Columbia College pitcher Kaden Vanderwerf.
Vanderwerf is another local product from R.A. Long High School will again be able to showcase his talents in his hometown during the summer of 2020.
"It is exciting to have a hometown kid who grew up watching us play when he was younger," Head Coach Grady Tweit said. "It means a lot to our fans and the community."
Vanderwerf is in his sophomore year with the Red Devils. As a freshman, he was 5-0 with a 2.41 ERA, helping lead LCC to the 2019 NWAC Championships. Vanderwerf's ability to command his three pitch mix and challenge the strike zone makes him a valuable arm.
"To have a guy like Kaden part of the staff who can throw his stuff in any situation and produce outs is exciting," Coach Tweit said.
Please welcome Kaden Vanderwerf to the 2020 Cowlitz Black Bears!