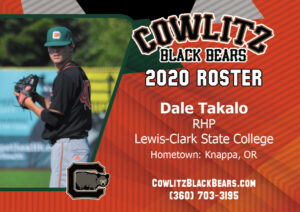 The Cowlitz Black Bears are happy to announce the return of right-handed pitcher Dale Takalo.
Takalo made three appearances for Blue Mountain College this spring. The sophomore had a record of 2-1 with 20 strikeouts in 16.2 innings pitched for the Timberwolves. The Knappa, Oregon native came out of the bullpen and played in 14 games for the Black Bears in 2019. He will be transferring in the fall to Lewis-Clark State College.
"Dale is a bulldog," said Head Coach Grady Tweit. "He wants the ball every game and is ready for any situation you put him in."
Please join us and welcome back Dale Takalo to your 2020 Black Bears!