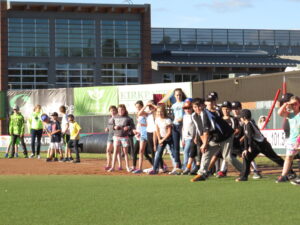 2021 Summer Baseball Camps will be announced soon!
Dates TBA: "Summer Kick-off" All Skill 3-Day Camp
$99 per camper for three-day camp, 9am-12pm each day 
Campers will work directly with Black Bear players and staff in an immersive, all skills training session each day in a fast paced, FUN environment. Campers will be grouped according to age and ability level.  Aspects of hitting, fielding, pitching, and baserunning will be coupled with fun games and interaction with Black Bear players and coaches. Each camper will receive encouragement and instruction while learning the fundamentals of the game. An emphasis on spirited competition will ensure that your player has a great time while improving on their athletic skills. Each camper will receive a camp T-shirt and ticket(s) to a Black Bears game. Daily prizes will also be awarded.
Dates TBA: 2-Day "Pick and Stick Hitting and Fielding Camp"
$75 per camper for two-day camp, 9am-12pm each day
Two-day hitting and fielding experience that will provide current college training methods alongside Black Bear players and coaches. Attendees will experience "live" on field batting and fielding practice using the same game day format the Black Bears use. Multiple areas to train within Story Field will ensure players get loads of high quality repetitions and have fun while doing it! Same benefit as above (shirts, prizes etc.)
 Additional Benefits:
Receive a Black Bears T-Shirt and 2 GA tickets to a 2021 season game.
Sign up for all camps and receive a 15% discount.
Camp competitions for Black Bears merchandise.