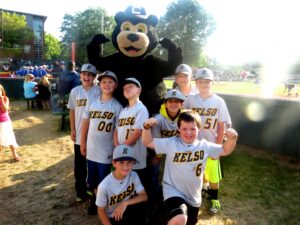 YOUTH SPORTS "FIELD OF DREAMS" PACKAGE: Your team or other group will join the Black Bears on the field for the National Anthem!
Package Includes:
24 tickets in the picnic area with a great view of the game (4 tables)
Black Bears souvenirs
Recognition over public address system
Personal photo opportunity with Corby the Bear!
Youth Sports Package Price for 24 Guests: 2023 Pricing Coming Soon!
For more information or to make reservations, contact us by phone at 360-703-3195.