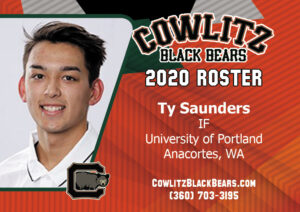 The Cowlitz Black Bears are happy to announce the signing of University of Portland infielder Ty Saunders.
Saunders is an athletic infielder full of electricity. With spark also on the offensive side, Saunders has the ability to turn every hit into an extra 90 feet. 
"Ty's ability to make plays both offensively and defensively is why he is a great addition for us," Coach Grady Tweit said.
Saunders is from Anacortes, Washington, where he is part of a long line of great baseball alums who played for the Anacortes Seahawks.
Cowlitz Black Bears country, please join us and welcome Ty Saunders to your 2020 Black Bears!