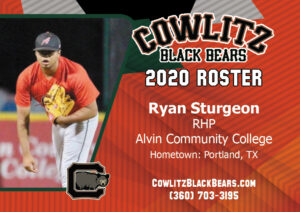 The Cowlitz Black Bears are happy to announce the signing of Alvin Community College RHP Ryan Sturgeon.
Sturgeon made seven appearances this season for the Dolphins. He had 13.1 innings pitched with a 2.02 ERA and 13 strikeouts. Sturgeon is a physical pitcher who pounds the zone and has the ability to pitch a lot for the Black Bears.
"We are fortunate in the baseball community to have opportunities to expand our relationships this year," Head Coach Grady Tweit said. "We've found a great arm in Alvin."
Sturgeon is a native of Portland, Texas, where he attended Gregory-Portland High School.
Please join us and welcome Ryan Sturgeon to your 2020 Black Bears!