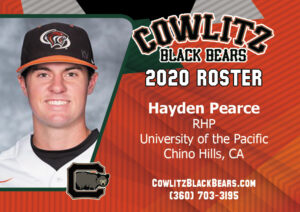 The Cowlitz Black Bears are happy to announce the signing of RHP Hayden Pearce from the University of the Pacific.
Pearce made four starts for the Tigers in 2020. He had 22 strikeouts and 2 base on balls in 23.2 innings of work on the mound. The right-handed pitcher will be in the starting rotation for Cowlitz and he's expected to have a big summer.
"Hayden brings maturity and command on the hill for us," said Head Coach Grady Tweit. "I have heard great things from his coaches and am excited to watch him personally."
Pearce is a native of Chino Hills, California and is in his junior year for the Tigers Baseball program.
Please join us and welcome back Hayden Pearce to your 2020 Black Bears!