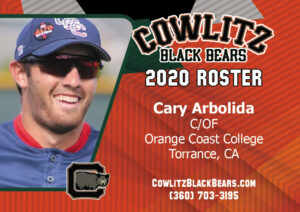 The Cowlitz Black Bears are happy to announce the signing of Orange Coast College freshman Cary Arbolida.
Arbolida is a catcher/outfielder for the Pirates. He played in 18 games this season hitting .457 with four homeruns and 18 RBIs.
A home grown talent from Torrance, California, Arbolida was a standout player at South Torrance High School.
"Cary is a very dynamic player who will add electricity for us," said Head Coach Grady Tweit.
Please join us and welcome Cary Arbolida to your 2020 Black Bears!