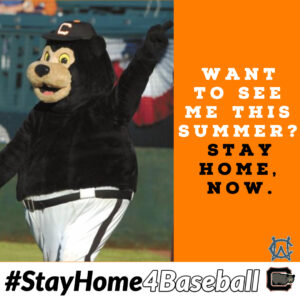 From the West Coast League:
March 25, 2020 – Wednesday morning, all twelve West Coast League teams launched the #StayHome4Baseball campaign, encouraging fans to stay home and flatten the coronavirus curve. The #StayHome4Baseball campaign challenges not only fans, but also baseball teams everywhere, at all levels, to help limit and ultimately stop the spread of COVID-19.
"It's not often," WCL Commissioner Rob Neyer said, "that a baseball league can make a measurable difference during a national crisis, but this is one of those times."
"All our teams are busy preparing for the season," Neyer said, "but at the same time we're thinking about our fans. We want them to stay safe, be healthy, and (yes!) join us at the ballpark this summer. But that's probably not going to happen unless we flatten the curve. Soon! And all the doctors and epidemiologists tell us the same thing: Stay home now. So we're asking our fans to stay home now, and later we'll play as much baseball as we can play."
"We are all in this together," said Portland Pickles co-owner Alan Miller. "If we all come together as a community now, we get baseball this summer. And I can't think of anything I'd rather being doing than watching a West Coast League game."
"Obviously," Commissioner Neyer said, "our hope is that #StayHome4Baseball goes … well, let's just say we hope it's the new #IceBucketChallenge. There are millions and millions of baseball fans out there, and if #StayHome4Baseball reaches just a small fraction of them, we'll have done some real good."
Up in British Columbia, Victoria HarbourCats managing partner/general manager Jim Swanson said, "When it's time to play baseball, we'll be ready to play baseball. Right now, it's time to do what's right for all of us, and to be ready to go when our collective recovery starts."
The West Coast League continues to monitor public health announcements while complying with federal, provincial, state and local guidelines and regulations while preparing for the upcoming season, scheduled to begin on June 5. The WCL urges all our fans to follow the advice and guidelines from local health authorities.
About the West Coast League: The West Coast League (WCL) is the premier summer collegiate baseball league west of the Mississippi. Situated in the beautiful Pacific Northwest, the fifteen-year-old, twelve-team, professionally operated wood-bat league showcases pro prospects from major conferences around the nation. Every summer, the league features unparalleled fan and player experiences, with the best summer weather in North America. Ninety alums and current players of WCL teams were selected in the 2019 MLB Draft, including No. 1 overall pick Adley Rutschman. In 2019, 317 WCL alums appeared or were active in affiliated professional baseball, including 45 in the major leagues, such as 2019 MLB All-Star Game MVP Shane Bieber (Cleveland Indians); star outfielder Mitch Haniger (Seattle Mariners); hurler James Paxton (New York Yankees); slugger Rhys Hoskins (Philadelphia Phillies); and rising star pitchers Marco Gonzales (Seattle Mariners) and Matt Boyd (Detroit Tigers). In 2019, overall member attendance increased to 497,050.